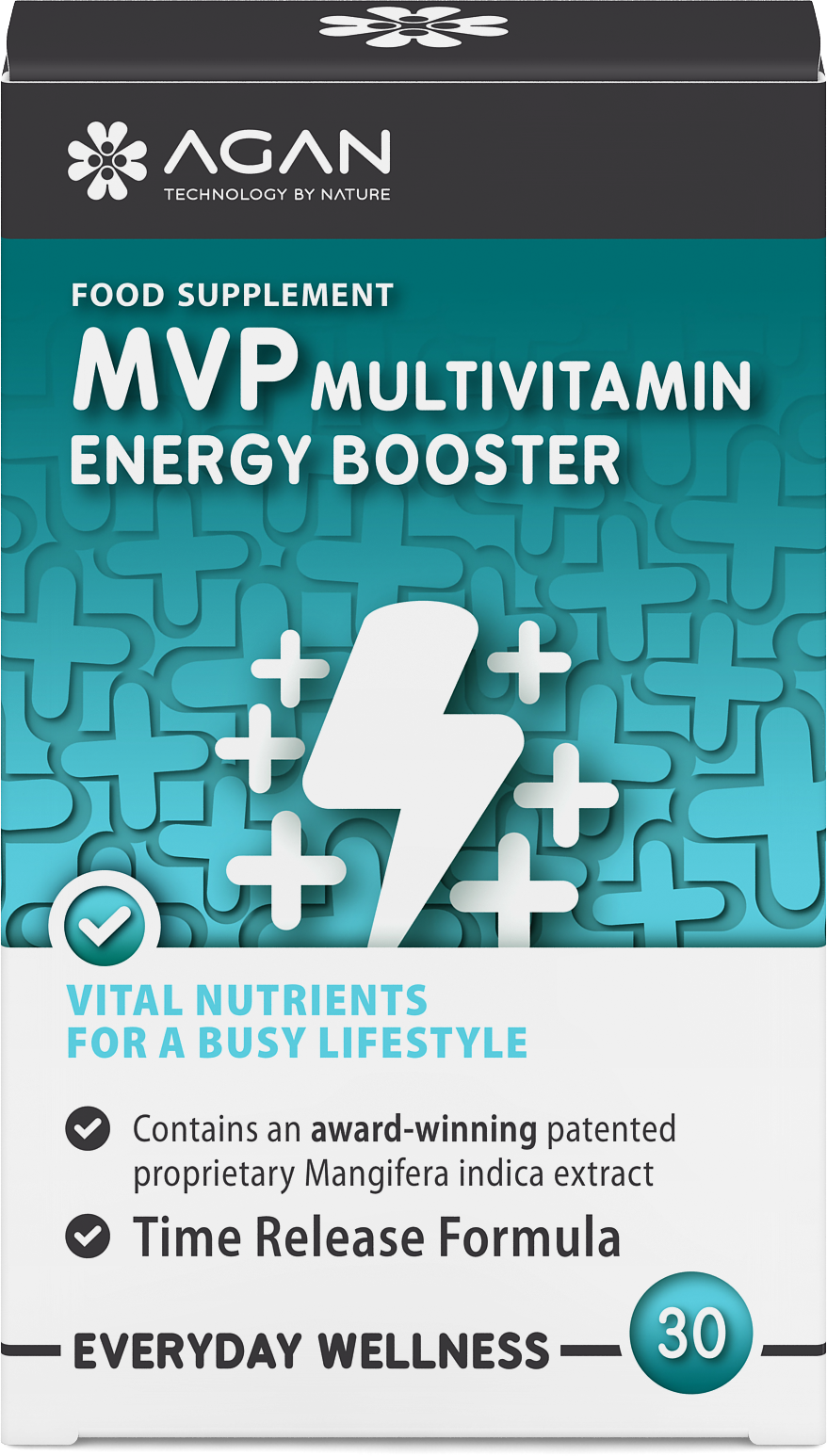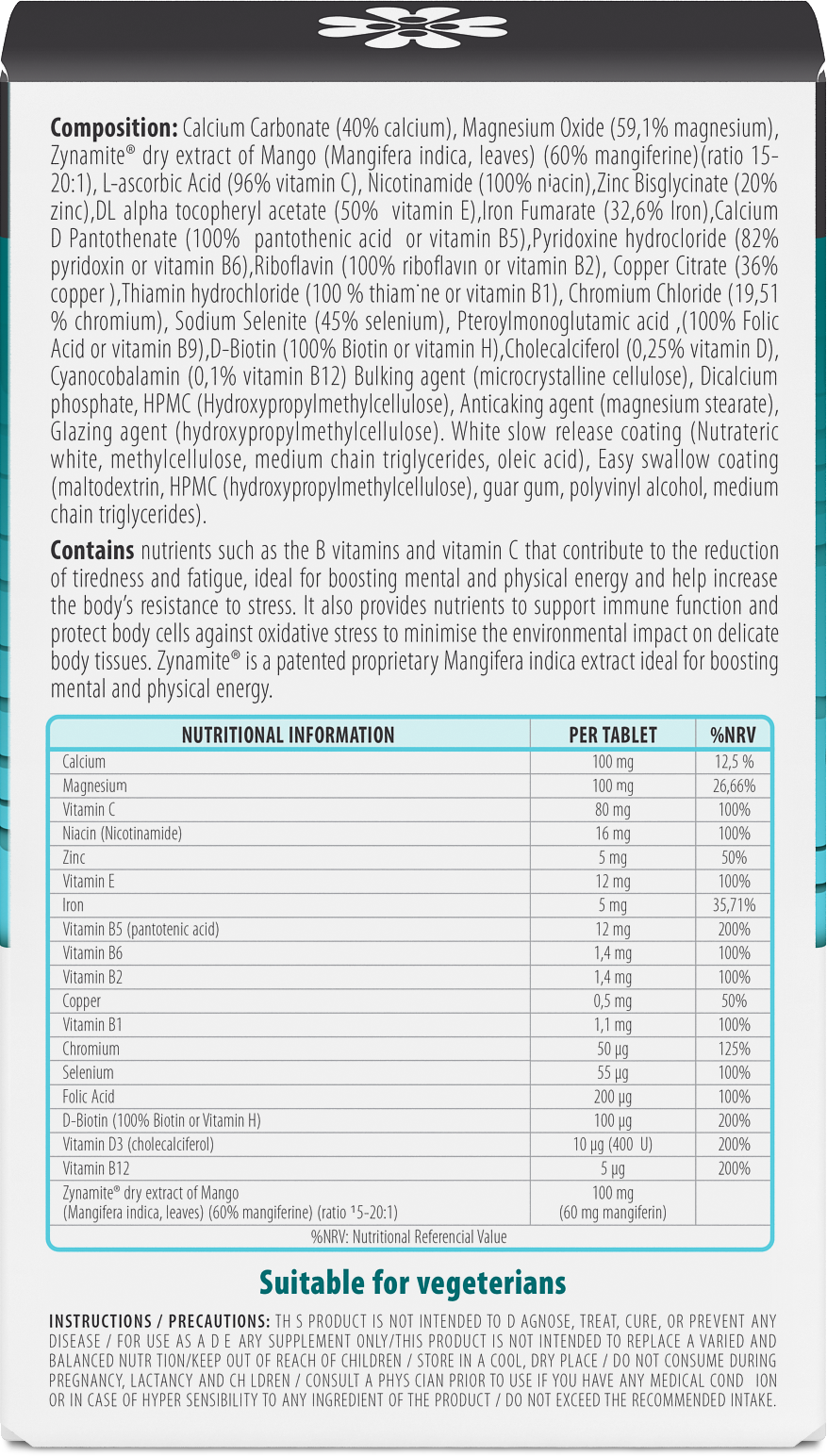 MVP Multivitamin contains nutrients such as the B vitamins and vitamin C that contribute to the reduction of tiredness and fatigue and help to increase the body's resistance to stress*. It also provides nutrients to support immune function and protects body cells against oxidative stress to minimise the environmental impact on delicate body tissues.
Contains a patented proprietary Mangifera indica extract (Zynamite®)

Double the NRV of vitamin D, the level that is increasingly being recommended
Food supplement
One - a - day formula
Take one tablet daily or as directed by your practitioner or pharmacist.
Do not exceed recommended daily dose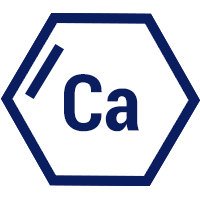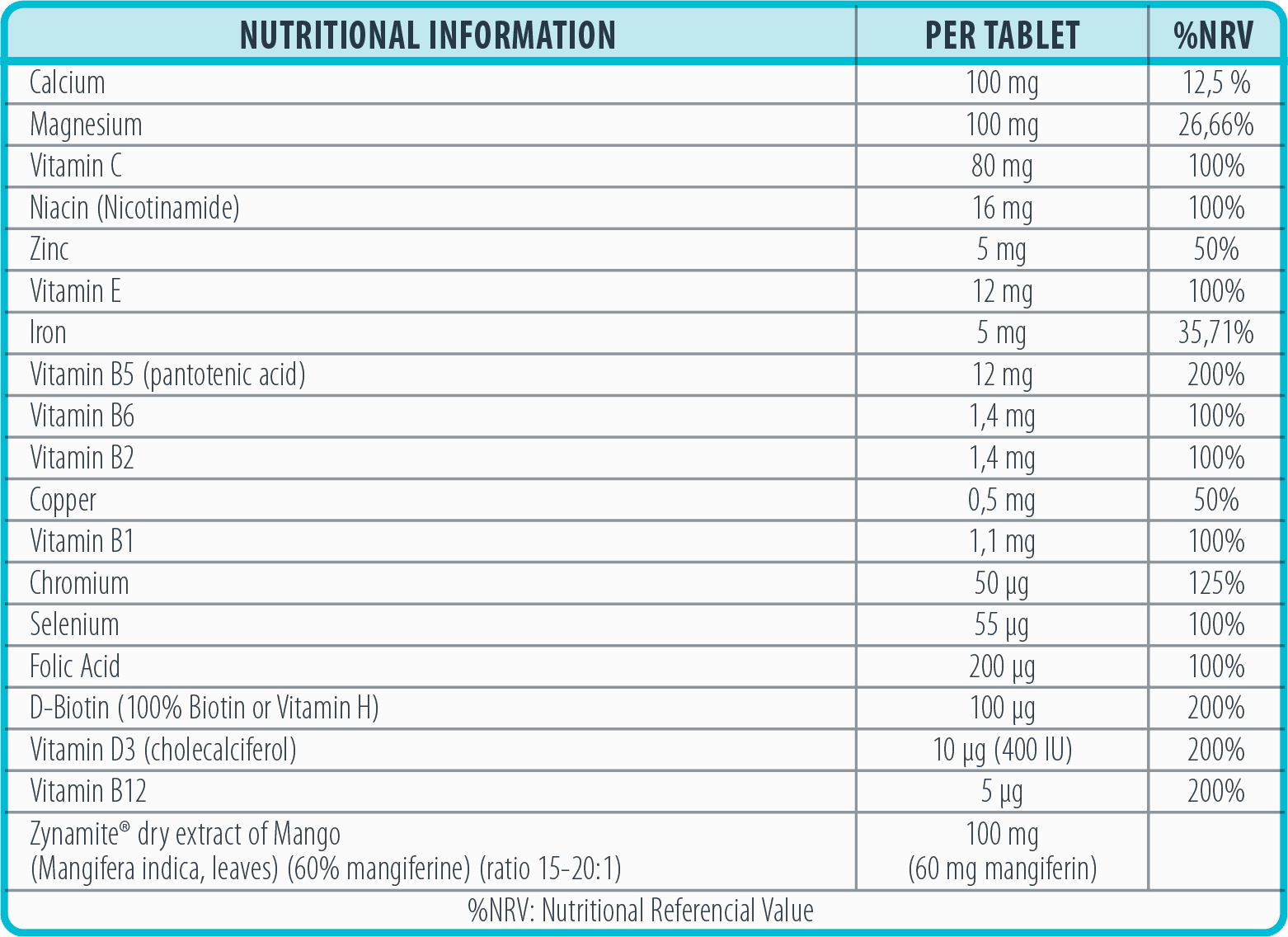 COMPOSITION: Calcium Carbonate (40% calcium), Magnesium Oxide (59,1% magnesium), Zynamite® dry extract of Mango (Mangifera indica, leaves) (60% mangiferine)(ratio 15-20:1), L-ascorbic Acid (96% vitamin C), Nicotinamide (100% niacin), Zinc Bisglycinate (20% zinc), DL-alpha tocopheryl acetate (50% vitamin E), Iron Fumarate (32,6% Iron), Calcium D Pantothenate (100% pantothenic acid or vitamin B5),Pyridoxine hydrocloride (82% pyridoxin or vitamin B6), Riboflavin (100% riboflavin or vitamin B2),Copper Citrate (36% copper ), Thiamin hydrochloride (100 % thiamine o vitamin B1),Chromium Chloride (19,51 % chromium),Sodium Selenite (45% selenium), Pteroylmonoglutamic acid, (100% Folic Acid or vitamin B9), D-Biotin (100% Biotin or vitamin H),Cholecalciferol (0,25% vitamin D),Cyanocobalamin (0,1% vitamin B12) Bulking agent (microcrystalline cellulose), Dicalcium phosphate, HPMC (Hydroxypropylmethylcellulose), Anticaking agent (magnesium stearate), Glazing
agent (hydroxypropylmethylcellulose). White slow-release coating (Nutrateric white,
methylcellulose, medium chain triglycerides, oleic acid), Easy swallow coating (maltodextrin, HPMC (hydroxypropylmethylcellulose), guar gum, polyvinyl alcohol, medium chain triglycerides)